Prof. Dr. Krzysztof KEMPA
H-Index: 40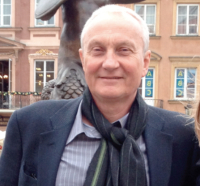 Boston College, U.S.A.
Position: Professor of Physics at the Department of Physics of Boston College, U.S.A.
Specialization: Electronic and Electromagnetic Properties of Nanostructures; Plasmonics; Application of Nanostructures and Nanodevices in optoelectronics, photovoltaics and biotechnology.

At the NANOCON´19 conference Prof. K. Kempa will present the invited lecture in the Session E "Towards 3rd generation solar cells based on nano-plasmonic architectures".

Personal Background and Education:
Krzysztof Kempa (*1950, Poland) received his M.Sc. degree in Electronics and Engineering from the Technical University of Wroclaw (Poland) in 1973, and then in 1980 the Ph.D. degree in Physics (theory) from the Wroclaw University (Poland). His first postdoctoral appointment was at the Free University in West Berlin, followed by the second one at the Indiana University in USA. Since 1987 he has been at Boston College, where he is currently a Full Professor of Physics. He is also a visiting professor at the Technical University in Poznan (Poland), and at the South China Normal University in Guangzhou (China).

Research Interests and main results:
His research focus has been in plasmonics and metamaterial effects of metallic and semiconducting nanostructures, as well as other systems (topological crystals, bio-structures, etc.). These include the non-optical plasmonic-metamaterial effects, including plasmon-phonon interactions in superconductors, and their impact on the critical temperature. Very recently he has been actively studying chiral states in optical topological crystals and their applications in ultra-fast computing, as well as the optical absorbance driven bio-effects, which could lead to novel medical therapies (anti-bacterial, cancer, etc.).
Another class of topics studied are related to "green" energy. These have been transparent conducting metallic networks, and their applications in electronics, photo-electronics, as well as single-junction photovoltaics (e.g. silicon, perovskite), in various nanoscopic architectures. Also, of interest is the photovoltaics beyond the Shockley-Queisser limit.
Co-founder of two high-tech companies, "NanoLab" and "Solasta". Co-organized the NT02 International Conference on Science and Applications of Nanotubes, Boston 2002. Recipient of the MTTC Technology Investigation Award (2006), for the idea of high-efficiency solar cells based on nanocoaxial waveguides. In 2011 received the prestigious Leadership Award from the Guandong Province (China), for his creative work on the high-performance solar cells.
In 2016 he has been elected Fellow of the American Physical Society "For pioneering contributions to understanding basic physics of plasmons in condensed matter systems". In 2017 became the Presidential (Belvedere) Professor of the Republic of Poland.

Publication activity:
K. Kempa has co-authored more than 155 papers in peer-reviewed journals (7258 citations); H-index: 40. He has also co-authored 20 patents.