Dr. Jiří HENYCH
H-Index: 13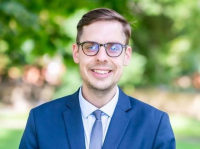 Institute of Inorganic Chemistry of the CAS, Husinec-Řež, Czech Republic, EU
Position: Researcher at the Institute of Inorganic Chemistry of the Czech Academy of Sciences, Department of Material Chemistry, Husinec-Řež, Czech Republic;
Assistant Professor at the Faculty of Science of the Jan Evangelista Purkyně University at Ústí nad Labem, Czech Republic
Specialization: Environmental chemistry, Solids analysis, Advanced analytical methods

At the NANOCON´20 conference Dr. Jiří Henych will present an invited lecture "Nanostructured titania- and ceria-based materials for destruction of toxic chemicals" at the session E.

Personal Background and Education:
PhD degree – Environmental Analytical Chemistry at the Faculty of Environment Jan Evangelista Purkyně University at Ústí nad Labem and Institute of Inorganic Chemistry of the Czech Academy of Sciences, Husinec-Řež, Czech Republic (2010-2015)
Master degree – Waste Management at the Faculty of Environment Jan Evangelista Purkyně University at Ústí nad Labem, Czech Republic (2008-2010)
PhD and Post-doc stay - at the Uppsala University (Sweden), Angström Laboratory, Solid State Physics department (in the periods 04/2013-06/2013, resp. 04/2017-09/2017)
Research Interests and main results:
Jiří Henych is focused on the research of nanostructured oxides and their use in environmental applications, especially for the degradation of toxic substances such as organophosphorus chemical warfare agents and pesticides.
His research work is dedicated also to ultrasonic preparation of low-dimensional systems, such as graphene, its inorganic analogues and nanodiamonds. He studied the properties of new nanocomposite materials based on graphene and nanodiamonds, for example, during a six-month research internship at Uppsala University.
Publication activity:
He has authored and co-authored of >50 works that have been cited for almost 700 times.
His Hirsch index: 13.
Awards:
For his outstanding scientific achievements in the field of photocatalysts and reactive adsorbents based on nanostructured metal oxides for the decomposition of organic pollutants and chemical warfare agents Jiří Henych won the prestigious Otto Wichterle Prize in 2020.