Prof. Dr. Frank MÜCKLICH
H-Index: 43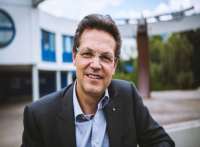 Saarland University in Saarbrücken, Germany, EU
Position: Professor, Head of Institute for Functional Materials at Saarland University in Saarbrücken, Germany; Director of the Material Engineering Center Saarland "MECS"; President of the German Society for Materials "DGM"
Specialization: 3D microstructure research in micro/nano scale, high performing functional metallic materials

At the NANOCON´20 Prof. Dr. Mücklich will deliver invited lecture at the Session A "Transformation imprinted materials – morphological signatures, controlled multilayer reactions and a new era of joining".

Education and Career Accomplishments:
Frank Mücklich (*1959) graduated in Physical Metallurgy and Materials Science & Engineering at the Freiberg Mining Academy (Germany) in 1985. And at the same university he received the title Dr.-Ing. in Physical Metallurgy (1987). In 1990-1991, he served as a postdoc at Max Planck Institute for Metals Research in Stuttgart and in 1991-1995 as a Leader of the Group "Materials Characterization and Microstructure Design". Since 1995 he is Head of the Institute for Functional Materials at Saarland University and since 2009 he is founding director of the Material Engineering Research Center Saarland (MECS) in Saarbrücken. In 2008 he established and since that year he chairs the European School of Materials (EUSMAT) at the Saarland University.

Research interests:
Main interests of F. Mücklich are in the field of:
3D microstructure research in the micro, nano and atomic scale to understand quantitative correlations between microstructural features and processing as well properties;
New theoretical and experimental methods for image analysis, visualization and classification;
Microstructure design by Laser interference structuring and functionalization using Direct Laser Interference Patterning (DLIP)
Advanced microstructure morphologies for high performing functional metallic materials.

Summary of publication activity and awards:
> 340 peer reviewed publications (>8 100 citations); he is author of 12 book chapters and 1 textbook. Hirsh factor: 43.
Author of 11 patents;
Since 2014 editor of Practical Metallography – Preparation, Imaging and Analysis of Microstructures, Hanser Publisher, Munich (Germany).
Prof. Mücklich has been awarded by many national and international awards e.g., Henry Clifton Sorby Award (2016) in the American Society for Materials or Löhn-Prize 2012 for the most innovative transfer project of a Steinbeis Institute.

Scientific supervision of dissertations:
>40 supervised and successfully completed doctoral dissertations
Out of them: 5 full professorships: Germany (Dresden), Austria (Vienna), USA (Tennessee), China (Dalian), Chile (Santiago d.C.) and further leading positions in national and international companies